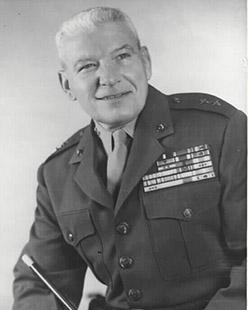 Recently, it was reported that the sword belonging to decorated Marine Corps Lt. General Homer L. Litzenberg may have been found by Chris Anderson of Arnold, Maryland. He found it listed for sale on eBay by a local Aberdeen, Maryland pawn shop. Chris had began the quest simply to find a suitable cake-cutter for the annual Marine Corps party, held at McGarvey's Saloon and Oyster Bar in Annapolis. He wanted this years celebration to be enhanced by the use of a genuine Mameluke sword worn by Marine Corps officers.
In looking for such a sword, Chris went perusing various online sites where he stumbled on an eBay listing that gave the name Homer L. Litzenberg Jr inscribed on the blade. It was then that Chris searched for the name Litzenberg and he found a treasure trove of information about a unique General officer who had an impressive military record.
A decorated hero
Litzenberg was awarded the Navy Cross, Distinguished Service Cross, the Legion of Merit and two Silver Stars for actions during the Korean War. Additionally, Litzenberg received one Silver Star for his World War II service.
The winning bid
Chris Anderson placed a $250 bid on the sword, which he won on December 18, 2017. The handle of the sword is made of ivory. Instead of having the item shipped to his home, Chris drove to the shop and picked it up to insure no damage would occur to the item. Four days later Chris wrote to U.S. Secretary of Defense James Mattis a letter describing the find and asking for assistance in getting the sword placed into the National Museum of the Marine Corps located near Quantico, Virginia. Lt General Litzenberg started his career in the Marine Corp as an enlisted marine. Litzenberg is one of only a few Marines who rose to the rank of flag officer without having attended college or having been awarded a college degree prior to being commissioned as an officer.