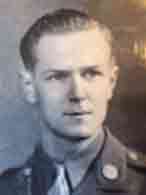 The US Air Force announced that the remains of Army Air Forces SSGT John Cantry were accounted for on January 22, 2018. Airman Cantry served with the 555th Bombardment Squadron, 386th Bombardment Group, 9th Bomber Command during World War II. He was one of eight crewmembers killed when his B-26 Maurader was shot down on a nighttime bombing mission from Easton Lodge-Essex, England against targets near Caen, France. The B-26 was shot down on June 22, 1944 between the villages of Baron-sur-Odon and Gavrus, France.
SSGT Cantry's Memorial
SSGT Cantry's name is recorded on the Tablets of the Missing at the Normandy American Cemetery. A rosette will now be placed next to his name indicating that his remains have been accounted for.